Curious Cargo undertakes 'making' commissions.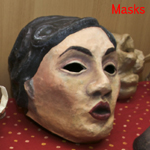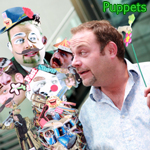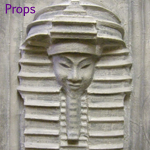 Click on an image to find out more

Previous creations have included masks & puppets (of varous sizes from the minute to the gegant!) a selection of bizarre and wonderful props, and site-specific visual art pieces.

Masks


Mask commissions:

Commissions include: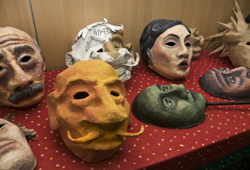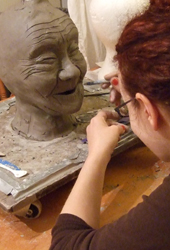 Papier mache & latex masks created for theatrical performances.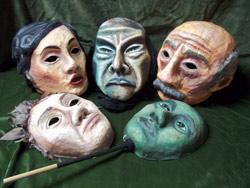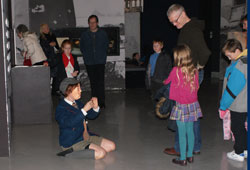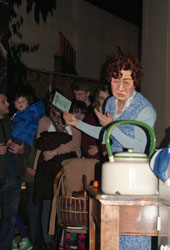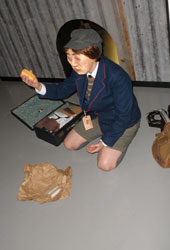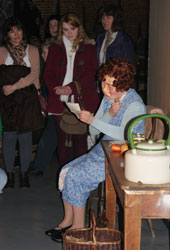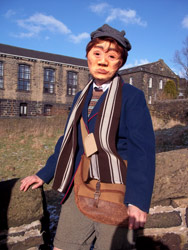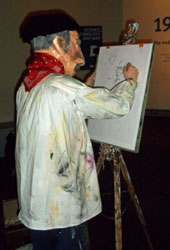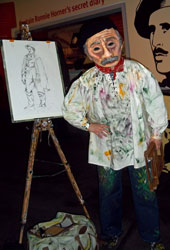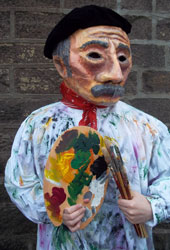 The Imperial War Museum -

'Once Upon A Wartime', the brief to create 2 walkabout masked characters for the temporary exhibition. A 1940's housewife & an evacuee boy.
At the Imperial War Museum In 2013 we were commissioned to create a masked walkabout character 'The Artist', who performed a 20 minute
interactive & participatory theatre piece within the main exhibition space at the museum.

Paper Cut Total Theatre's production of 'Songs of Innocence & Experience' boy mask.
Imperial War Museum North 'Shadow puppetry films to accompany Carrie's War & War Horse exhibits'





Carrie's War - Short Shadow Puppet Film



War Horse - Short Shadow Puppet Film

Props

Prop commissions: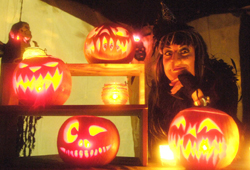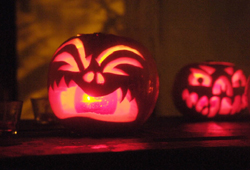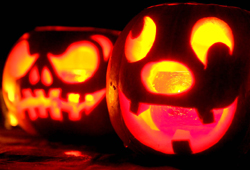 Prop commissions have included: bespoke pumpkin lantern designs for Clayton Vale's 'Halloween Howler' event;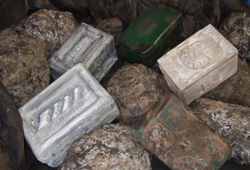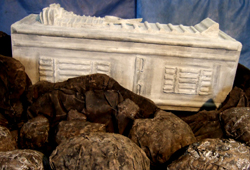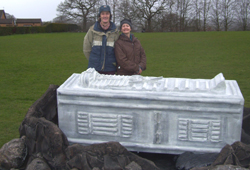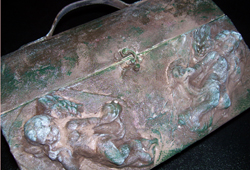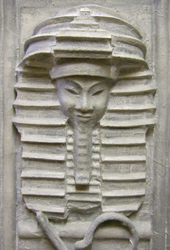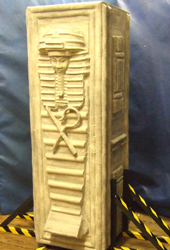 Sarcophagus & time capsules created for Creative Partnerships 'Timeline' project in Padiham, Lancashire



Click here to view the YouTube Sarcophagus video

Wilson Stuart Special School- Tess worked with students from Wilson Stuart Special School to design & create this visual art installation piece for their school library.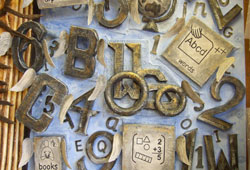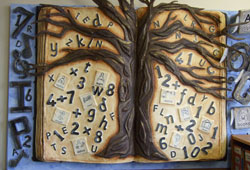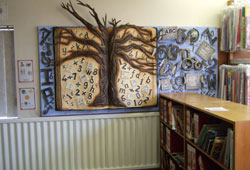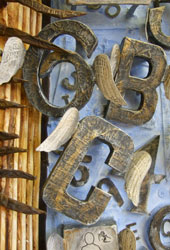 Hindley Church of England Primary School - Tess was commissioned to design & create a 3 ft x 5ft '3D relief' plaque for the school hall. The large plaque was part of the school reward system for the pupils that had obtained the top 'prize' of 'Platinum Status'. Velcro was incorporated into the design to enable photographs of the children to be added to the 3D rosette.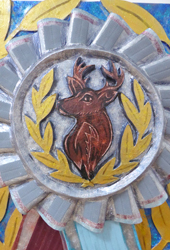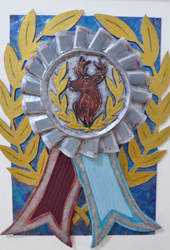 Puppets

Oldham Theatre Workshop - commissioned Curious Cargo to create 3 x magical 'Imp' puppets for their Christmas show. The puppets were designed as 'bunraku' style for 3 operators/puppeteers. Tess also ran a full day training session to teach the actors puppeteering skills.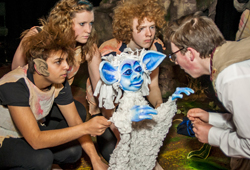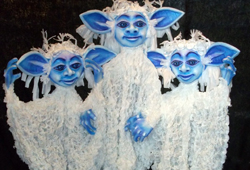 Model Commission

Pathways Consultation - commissioned a 'colourful, quirky, eye-catching' model of The Great Northern Square, Manchester, to draw passers-by into a public consultation about the proposed redevelopment of the site. Curious Cargo also supplied a performer/Lollipop Lady for some of the consultation days to help 'engage' members of the public in the process.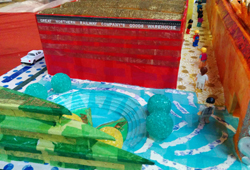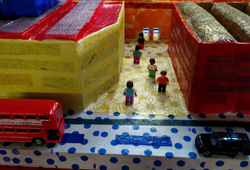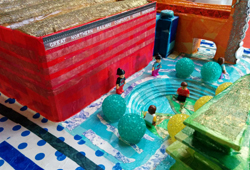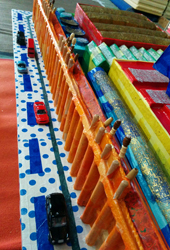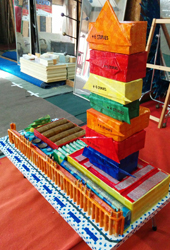 Puppets

Puppet commissions include:

Curious Cargo was commissioned by the Imperial War Museum North to create 2 simple shadow puppet films/animations to compliment the 'Once upon a Wartime' special exhibition which featured books such as Carrie's War & War Horse. (These are stills from the films).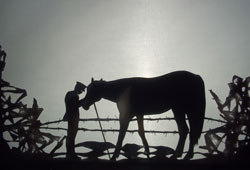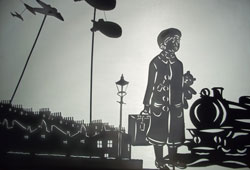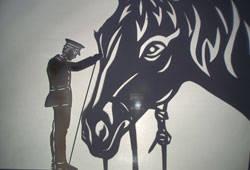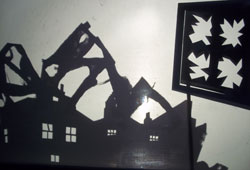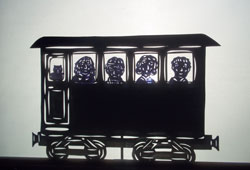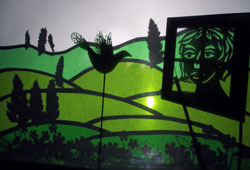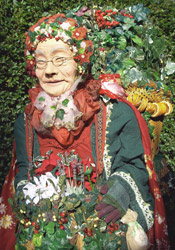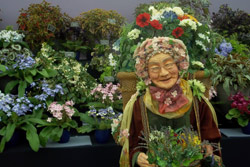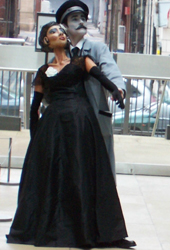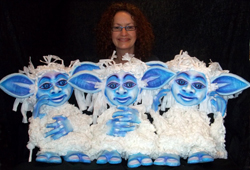 'Busy Lizzy', 'Winter Rose, Diva, Meadow Sprites and Winter Sprites puppets created for Curious Cargo street theatre shows.



Click here to view Busy Lizzy you tube videos video footage


Click here to view the photostory of Busy Lizzy at RHS Cardiff 2011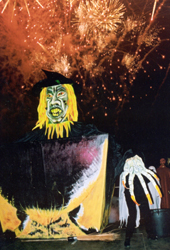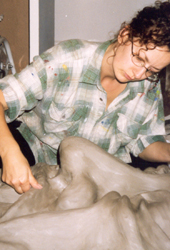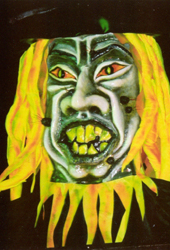 Gegant witch puppet for Blackleach Country Park Halloween event; '
Link to Blackleach video - YouTube to follow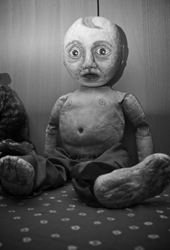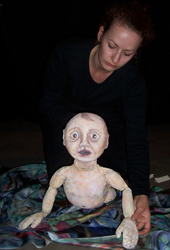 Baby/Toddler' bunraku puppet for Paper Cut Total Theatre's production of 'Songs of Innocence & Experience';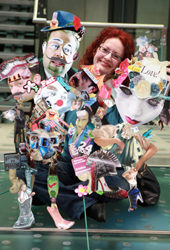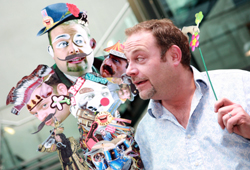 Surrealist photo montage puppet of actor John Thompson for Manchester Art Gallery;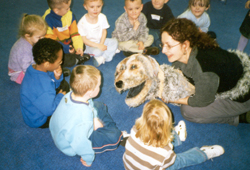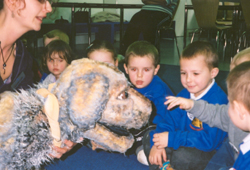 'Scruffy' the dog mouth puppet, inspired by 'Work' painting by Ford Maddox Brown,
created for early years storytelling sessions at Manchester Art Gallery;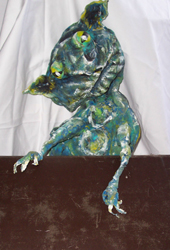 and 'Alien' puppet for walkabout street theatre & storytelling.