Curious Cargo has a selection of highly visual, comic, intriguing, interactive strolling acts which are available
for bookings throughout the year (Lollipop Patrol, The Lost Luggage Porters, The Temperance Society, The Temperance Society at Christmas, Busy Lizzy , Winter Rose & The Winter Sprites)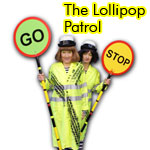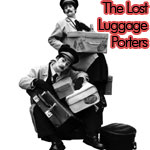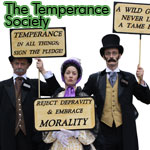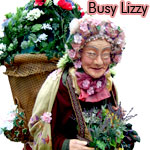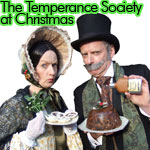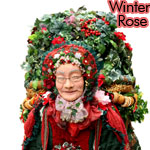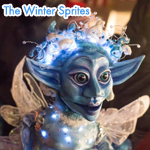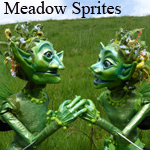 Click on an image to find out more

Curious Cargo creates street theatre & visual theatre pieces for unconventional settings. As a performance company Curious Cargo has worked at festival & events across the country including Showzam Festival, Blackpool, Glastonbury & V festivals. Curious Cargo has also performed in settings such as the Children's Hospital in Birmingham, Manchester Art Gallery, Royal Horitcultural Society Flower Shows, Henley Arts Festival, Liverpool Museum & Early Years settings.
Curious Cargo offers bespoke workshop and training packages in physical & visual theatre techniques.
Curious Cargo also undertakes site-specific/event specific commissioned shows.

To view images of events click on the buttons below:





Current Strolling Shows: available for bookings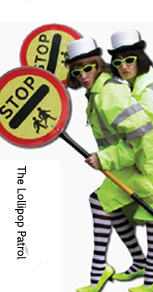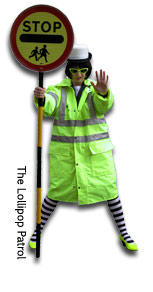 Lollipop Patrol

With excessive enthusiasm and a slippery grip on reality, the Lollipop Patrol are here to help and hinder.
Fluorescent and effervescent, the 64th emergency service, the luminous hand of the law, they are a veritable flurry of fluoro.
Experience their traffic-trauma, delight in their neon neuroisis, and cross them at your peril!
A comic character walkabout show with two performers.

Quotes about the Lollipop Patrol:

"And watch out for those officious lollipop ladies who seem intent on helping people get to places they just don't want to go"
The Guardian, Lyn Gardner, review of Streets of Brighton Festival.
" Curious Cargo's Lollipop Ladies were an asset to the Art Car Parade, and the audience loved their mischievous redirecting of traffic and people, and their banter delighted passers-by." Liz Pugh, Producer - Walk the Plank

"The work of the company is always of the highest quality, and they are reliable and easy to deal with from a production point of view, as well as being creative and playful when performing." Liz Pugh, Producer - Walk the Plank
"The Lollipop Ladies went down an absolute treat at the Feel Good Festival. It was a delight to see you encourage such a wide variety of people to play and laugh - this is exactly what we wanted to achieve! Your antics really brightened up the day and gave unsuspecting passers-by full permission to be silly. I particularly liked it when you propositioned one of the council staff who was there to empty the bins - I'm pretty sure you made his day!"
Kelly Allen, Arts Development Assistant, Rochdale Council, 2009.
"Curious Cargo entice you into their extraordinary world with grace, humour and a touch of anarchy. The Lollipop Patrol created just the right amount of consternation and mayhem to gather a loyal following in just a few hours. Accessible and high quality, both shows were hugely popular with people of all ages and the company were a joy to work with - positive, professional and fun".
Julie Tait, Director, Kendal Arts International (Lakes Alive & Mintfest)
"You two are absolutely the best Lollipop Ladies ever! You're awesome!" member of the public, Ricoh Womens Golf Championship, St Annes 2009.
"I have no idea why you are here but you've made my day, thankyou!" member of the public, Worcester Street Festival, 2008
"Larger than life and thoroughly entertaining", member of the public, Worcester Street Festival

"We loved you! The act was brilliant, marvellous". Jennifer, Organiser, Batley Festival.

"We saw footage of your Lollipop act on YouTube and we thought we've got to have them!" Mandy, Organiser, Batley Festival.

"Those Lollipop Ladies are fab; they're hilarious, so entertaining!" Spectator feedback via Adelle Jackson, Events Team, Kirklees Council.
Visit the curious cargo gallery and video clips to view images from a range of performances.