Curious Cargo aims to offer/create creative experiences which enable young people to develop skills that will be valuable for life: initiative, creative problem solving, imagination, lateral thinking, and an ability to explore and experiment. Many creative experiences are purely about the 'process' and about being 'in the moment' so often these are workshops/experiences that aren't outcome/product led. We are inspired by the aims & philosophy of 'Reggio Emilio', with an ongoing emphasis on child-led & enquiry-led activities and experiences.
Click here to download our Approach and Philosophy PDF

Quotes:
"As a Surestart Children's Centre Teacher I worked in partnership with Tess at Scout Drive Children's Centre in Wythenshawe, Manchester. This 'creative collaboration' project was over a 12 month period in 2007 working with the 0-5 age range.. Tess' enthusiasm and creative instinct was wonderful and had a huge impact on the children and practitioners. Tess supported us in reflecting on what creativity means for us as individuals and what is meant for the centre as a whole. This support took many forms from whole staff team training, sourcing new and wonderful resources, to hands on modelling working creatively with the children As a result of Tess' input many changes took place in the environment and resourcing of the centre and most importantly in the outlook and confidence of the practitioners to plan and facilitate creative activities for the children. Tess was like a breath of fresh air... in fact sometimes more like a whirlwind of ideas!! Her passion and enthusiasm created a change in ethos which has been sustained over time .. in fact thinking of Tess still inspires us now to 'have a go' and try something new. "
Anne Crocker, Sure Start Teacher, Wythenshaw, South Manchester.
"Students who have worked with Tess always remember her next time she comes. During sessions students are engaged and have a fun time creating exciting pieces at their own level. Our students can at times display very challenging behaviours; she reacts as if she were here seeing it everyday. The creating is fun and uncomplicated, there's more than one thing to try and activities are easily adapted when needed. What some people may see as a mess, she sees for what it is, a piece of art a student has created. She listens to what staff and students say, and to what they don't. She gets our students and not everybody does. That's why she's asked back, she just knows, and we love that about her".
Diane N Bloomer , Creative Arts Worker, Sunfield School, Worcestershire.
"The project has stretched and challenged everyone (adults & children)". "It's changed ways of thinking". "It's brought in new ideas." "There's a lot more variety & choices on offer; the spaces have changed".
All quotes from staff members at Scout Drive Children's Centre, Manchester.
Previous Projects:

Deepdale Infants School - Reception classes x3 - Markmaking Project - 2011 Working in the outdoor spaces we used our bodies & body shapes as our starting point for the project. Through a variety of media we drew, painted & collaged our silhouettes.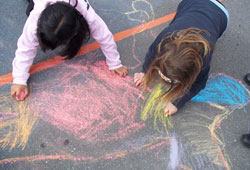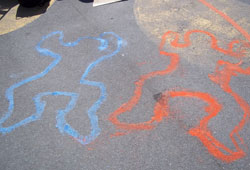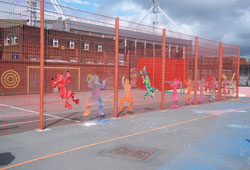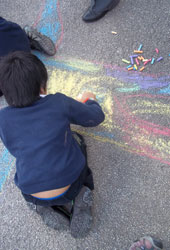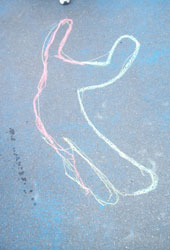 Deepdale Infants School Yr 1 - A Washing Line Sea -2011 Tess worked with all 3 x Year 1 classes to transform a corner of their playground. We put up many washing lines; then we added cloth of different textures, patterns & shapes, then we wove ribbons into hoops to make textile jelly fish. We put up a fishing net & into that we put 'messages in a bottle' mixed media containers & various sea creatures. The 'washing line sea' was then left for the children to play in for the rest of the term.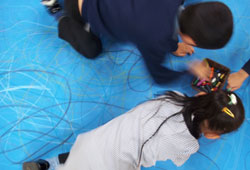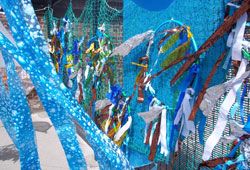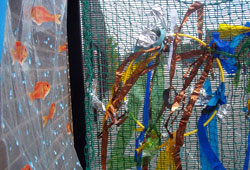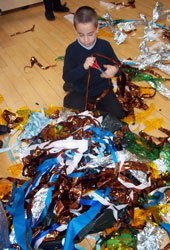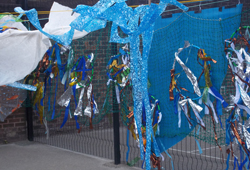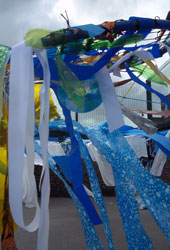 Deepdale Infants School, Year 2 classes x 3 - Giant Creatures junk sculptures - 2011 The Yr 2 children designed their 'mythical creatures' in teams drawing inspiration from African animals. Then using boxes, tubes & other junk they worked in their teams to build the giant creatures, papier mache them, and finally paint them.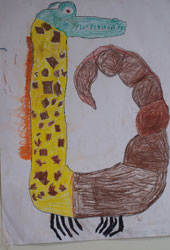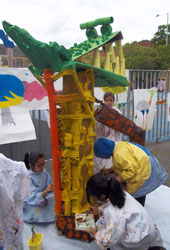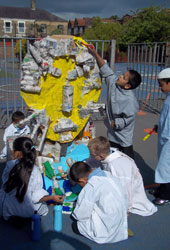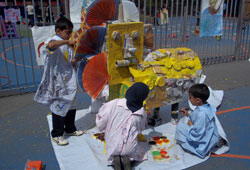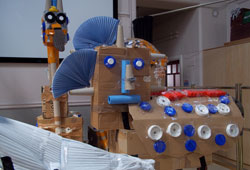 Fulmead Sure Start Project - 2010 In this project our aim was to use visual arts techniques as a vehicle to encourage teambuilding and cohesion within the culturally diverse Friday morning & afternoon groups of parents & toddlers that attended the centre.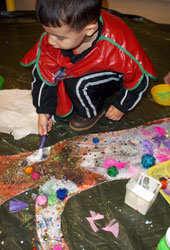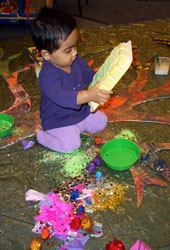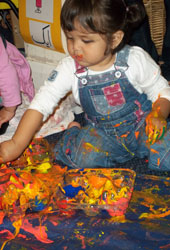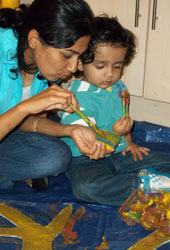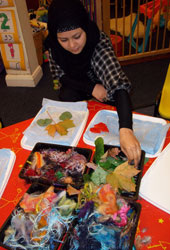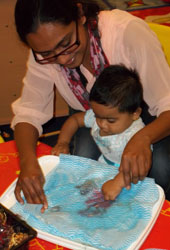 Sandbank Nursery School, Bloxwich, West Midlands - 2012 To celebrate the Queen's Jubilee the children from Sandbank Nursery School worked with Tess Hills to create 3 large scale crowns using a variety of materials & 'treasure' to create a sensory, exploratory, fabulous creation.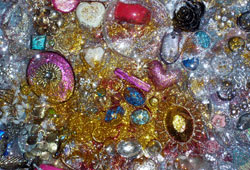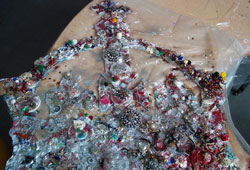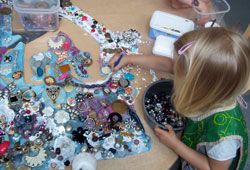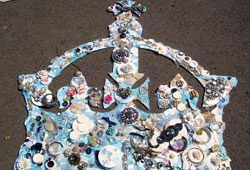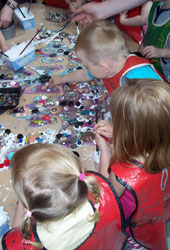 Sandbank Nursery School, Bloxwich, West Midlands - 2011 & 2012 During this 'visual arts & creativity residency' we explored a range of materials & techniques to include: puppet making, silk paper making, den building & junk modelling.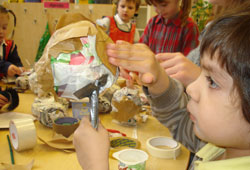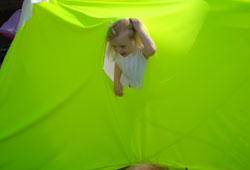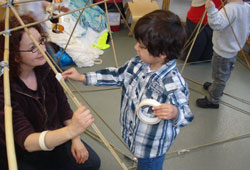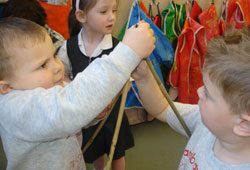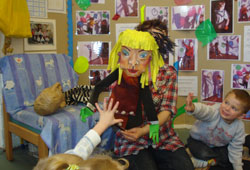 Early Years Creative Collaborators Project - In 2007 Tess Hills was involved in the year long 'Creative Collaborators' project with Manchester Education Partnership at 'Scout Drive Children's Centre' in Wythenshaw, Manchester. This project was influenced by the 'Reggio Emilio' approach to early years education.
http://www.phm.org.uk/smallkeysopendoors.pdf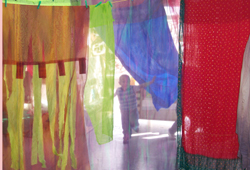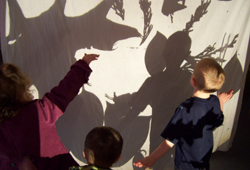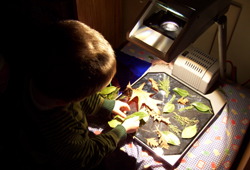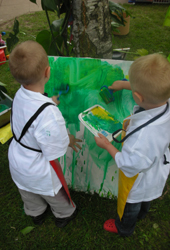 CARA Action Research Project - In this project Peppy Hills, and students & staff at Sunfield School, worked in collaboration with Curious Cargo's Tess Hills to investigate the research question: 'Exploramentation! Spotting Authentic Engagement in Creative Activity Among Students with Severe and Complex Learning Needs'. Sessions & 'creative provocations' included: mark-making, light & shadow, clay & modelling materials, smell/taste/collage, found object puppetry/storytelling, construction & dens, & textured pathways.
http://www.sunfield.org.uk/pdf/Exploramentation.pdf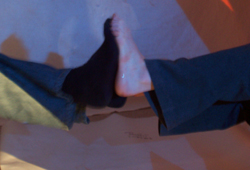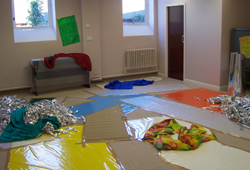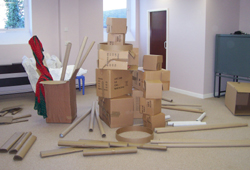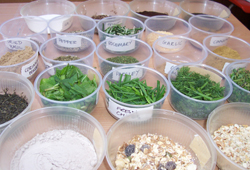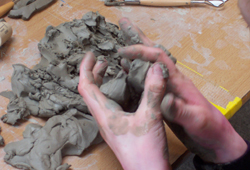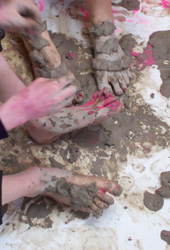 Netherton Children's Centre, Dudley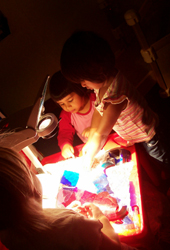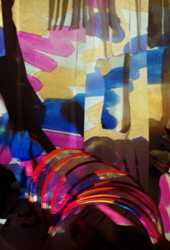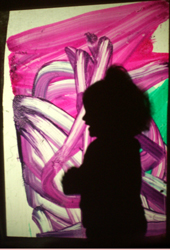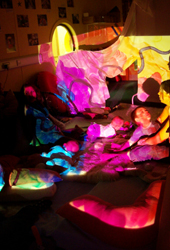 To view the archive of past creative experiences images please click on the button below: