Curious Cargo's director & associate artists have delivered arts-based workshops & training programmes nationally & internationally in a variety of settings. These settings have included educational, professional, corporate, local authority & community contexts. Tess Hills (Director) is also a qualified Artist Facilitator (accredited through the National Open College Network).
Curious Cargo offers training packages in 2 distinct areas:
Skills Based Training - this is straight forward delivery of skills, techniques & exercises in areas such as mask making & mask movement, puppetry, street theatre and withie sculpture etc. The content & length of our workshops can be tailored to suit your needs and is not limited to this list.
Arts Based Training -the arts, and the methods & processes it utilises, offers a powerful tool with which to explore and address a range of business issues and needs, (including Talent Management, Growth & Change, Personal Impact & Presentation, Communication Skills, Teambuilding, Creativity, Risk-taking, Change Management, etc) . We offer detailed learning needs analysis, programme design, budgeting & project management, delivery, and evaluation.
All training packages that we offer are designed to be practical, experiential, energising and reflective in a safe, exciting, creative space. Our training is delivered through experiential learning, (utilising all 4 of the main learning styles & all 7 intelligences), thus resulting in deep learning through a fun, memorable process.
Previous clients have included: Hadrian Education & Development Services, Newcastle; SWAN Teachers INSET, Birmingham; London College of Communication: 'Team Building & Personal Practice Reflection'; Edge Hill University- Performing Arts Dept, Liverpool; Equals Charity- Best Practice Workshops Programme, London & York; Merseyside SLD Education Unit-staff INSET, Liverpool, Manchester Metropolitan University PGCE Course, Oldham Theatre Workshop; Pikefold Primary School, Manchester-staff INSET; Solihull Council, West Mids : 'Artist's Professional Development Day' (delivered in collaboration with artist Eva Bennett); Acadamee Learning Solutions, Cheshire : 'Talent Management Training' (delivered in collaboration with artists Eva Bennett & Jo Swatkins).

Quotes from training programme participants:
"Can you put my name down for next year. This is all I want to do, I don't want to do anything else! I'm dead proud of myself, i'm not normally artistic".
Mark (workshop participant), Teachers & Teaching Assistant INSET training in Puppet Making & Puppetry for Merseyside SLD Schools.

"Thank you for yesterday, it was brilliant everybody has commented on how good it was." (Puppetry & Mask INSET for teachers & teaching assistants), Christopher Willan, Assistant Head Teacher, St Leonard's Cof E School, Padiham.
'The whole day was amazing, so many ideas, practical exercises and very useful and imaginative examples. The two presenters were extremely knowledgeable and approachable and so enthusiastic towards the subject. Will definitely be recommending to others!!'
Nicola Lord, Phoenix School, Peterborough
"Fantastic workshop, it's all going to be really useful".
B.Carr, Windlestone School.

"Outstanding presentation by the two fascinating practitioners with a wealth of experience; fantastic resources and practical ideas that will be highly motivating for pupils; really enjoyed the day, the most motivating and energising course I have been on!"
A. Skipworth, Phoenix School.
"The most interesting & fun course, fantastic! Thankyou" anon.
"A really good practical course, the tutor was very knowledgeable about this subject and very helpful".
Hadrian School.
"Wicked willow weaving!"
Westgate Hill Primary School.
"It was a fantastic day!"
Epinay Business & Enterprise School
"Brilliantly joyful; plenty of ideas to work with, confidence builder!"
B.Edwards, Rowan Park., Liverpool.
"Really great fun & very rewarding".
Rowan Park, Liverpool.

Mask Movement & Mask Making Training
An introduction to a variety of masks, mask making methods & mask movement techniques.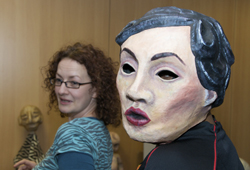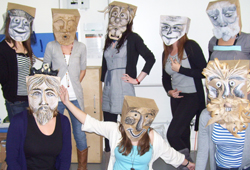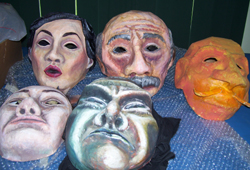 Photo 1 by Lewis Wileman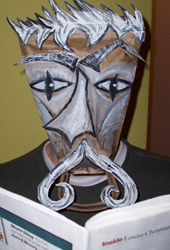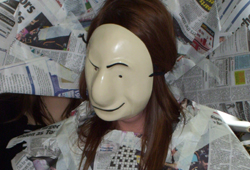 Puppeteering & Puppet Making & Shadow Puppetry Training
An introduction to a variety of puppets, puppet making and puppetry styles.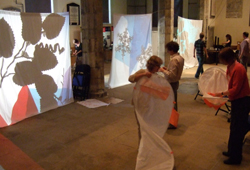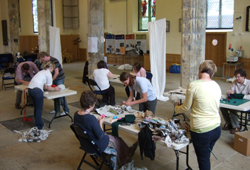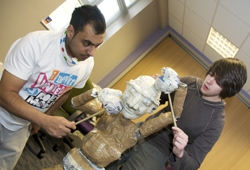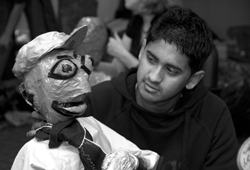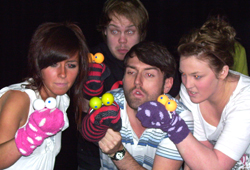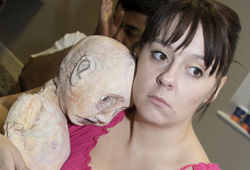 Photos by Lewis Wileman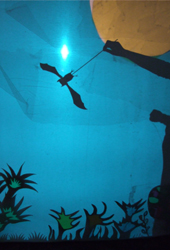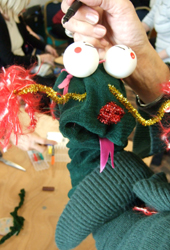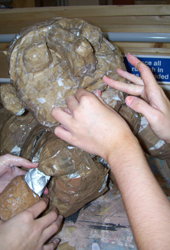 Photos by Lewis Wileman

Team Building, Personal Development & Drama Games
Bespoke training programmes are designed and delivered to address specific business and/or group needs & issues.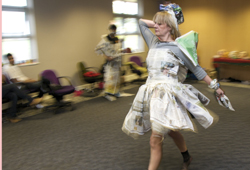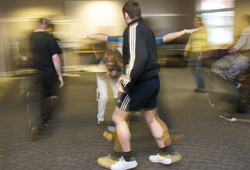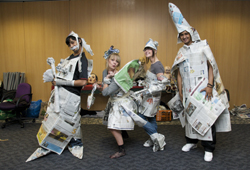 Photos by Lewis Wileman
Photo 2 by Lewis Wileman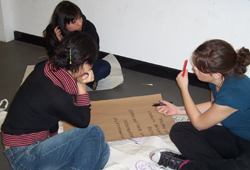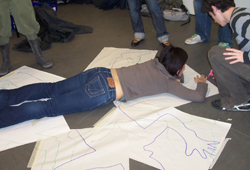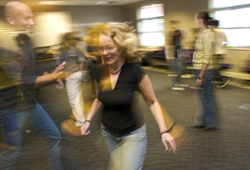 The course includes an introduction to: lantern making methods, large-scale withie masks suitable for processions, & indoor installations using withies & willow.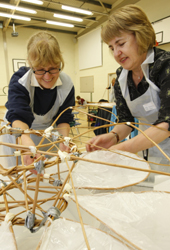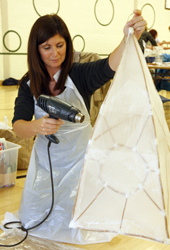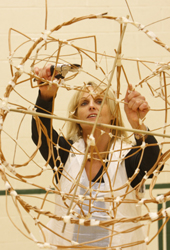 Photos by Steve Brock

To view the archive of past training images please click on the button below: